February is Science Fiction Romance Author Month here at my blog! Each day, I'll be showcasing a different sci-fi romance author. Learn more about these great authors, their style of science fiction romance and their latest releases. Enjoy!
______________________________________________________________________
Welcome to Lyn!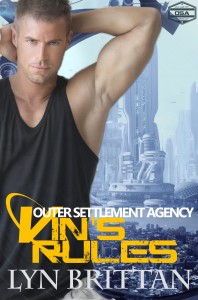 Describe your SFR writing with 5 words: Decadent adventure peppered with mystery
What's your favorite:
Sci-fi TV show: Star Trek: The Next Generation
Sci-fi hero: James Tiberius Kirk…DUH! (Both the original and the very delicious Kirk 2.0)
Spaceship: The Battlestar Galactica (Anna here: Me too!)

Aliens: Necromongers
Sci-fi weapon: Does a transporter count? 'Cause I kinda see myself running from everything. Just saying. (Anna here: sure, we've already had a time machine)
Lyn's website: www.lynbrittan.com
Describe your latest release in just one sentence: One stern woman finally puts the Agency's bad boy in his place.