I am absolutely thrilled that the final adventure in the Team 52 series is now available! This is also my final release of 2020!!
I hope you love Director Jonah Grayson and his story with mysterious, dangerous redhead, Evan. I am also very excited to share some fun custom artwork of Jonah and Evan done by my author buddy, Lana.
To celebrate the release of Mission: Her Justice, I have some super cool Team 52 mugs to give away, featuring custom artwork of the Team 52 couples!!
Scroll down to see all the goodness and enter the giveaway.
Out Now
When a dangerous redhead invades his office and his base, and warns that his team is in danger, Director Jonah Grayson doesn't know if she's friend or foe.
Former elite Army aviator Jonah Grayson was forced to give up flying, but now serves as director of the covert black ops team, Team 52. He takes care of the brass in Washington D.C. to ensure his team can do their job: keeping the world safe from dangerous, ancient artifacts. But when he's confronted by a tough, skilled, mysterious redhead with a warning that his team is being targeted, he'll do whatever it takes in order to find out who she is and what she wants.
Evan Fletcher's life has imploded. She's on the run, been labeled a rogue and traitor, and she knows a very bad, powerful man has Team 52 in his sights. He's after a deadly artifact and wants the team out of his way…but Evan plans to stop him. She'll use all of her particular skill set to bring him down, clear her name, and protect Team 52…and that includes the team's handsome, oh-so-tempting director.
Surrounded by danger at every turn, Evan and Jonah are drawn to each in ways they can't explain. To keep Team 52 safe, stop the enemy, and find justice for Evan, they will put everything on the line. But when you're under fire, trust is hard, and falling in love is even harder.
Custom Art: Jonah and Evan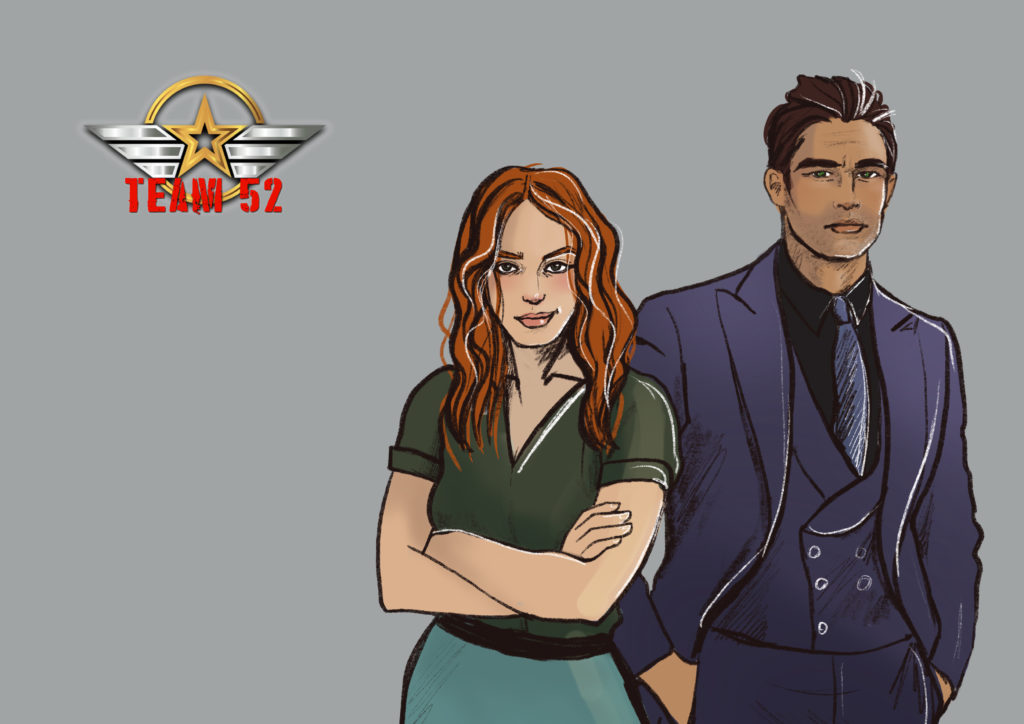 The amazing artwork is thanks to my author buddy and artist, Lana Pecherczyk! She's also done artwork for the other Team 52 couples (Axel and Nat are still to come – stay tuned!) To see the rest of the team, visit my Extras page.
Lana also helped me create these super fun mugs! They are now available on my Zazzle store.
Anna's Zazzle Store
If you're after Team 52 mugs of your own, or fun gear for my other series, then check out my Zazzle store.
I am THRILLED to let you know that there is updated Hacketteer gear available AND new Hell Squad Berserkers gear too.
Team 52 Mug Giveaway
I have FOUR Team 52 mugs to give away to four lucky winners. To enter, just use the Rafflecopter below. This is open internationally and just select the options you'd like to do.
a Rafflecopter giveaway